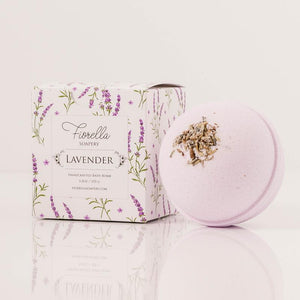 Socialight Candles - Lavender Bath Bomb by Fiorella Soapery
Lavender is our favorite scent when we need a little extra relaxation. Fiorella Soapery uses lavender essential oil so you can get the full benefits of this sweet and light floral scent.
These luxurious bath bombs are made with skin loving cocoa butter and coconut oil so your bath will be ultra luxe. Pop one of these into your next bath for a moisturizing, bubbly and relaxing skin treat. That's right...all our bath bombs bubble and fizz!
Ingredients: Baking Soda, Citric Acid, Kaolin Clay, Sodium Lauryl Sulfoacetate (naturally derived from coconuts,), Grapeseed Oil, Ethyl Alcohol (alcohol), Essential Oil, Mica. 
Weight: 5.5 ounces or more
Please remember Fiorella Soapery makes ALL of their products by hand so there may be some variances in what you see pictured. 
Fiorella Soapery makes their products as natural as possible so there is a slight chance of the colors sticking to your tub. We use cosmetic grade mica so the colors are never too pigmented so you should be able to rinse away with some water. 
---
We Also Recommend
---