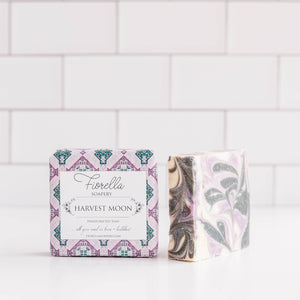 Socialight Candles - Harvest Moon Bar Soap by Fiorella Soapery
If you have a love for our ever popular "Hippie Girl" scent then Harvest Moon is the fall version. Fiorella Soapery blended apples, fig and lemon with warm caramel, cinnamon and coffee to create a deeply unique scent.
Fiorella Soapery bar soap is the item that started it all. They are passionate about natural bath and body products (as you know or else why would you be here!) and natural bar soap is by far the cleanest way to get clean! No phthalates, no sulfates, no parabens. Jammed packed with skin loving all natural oils and butters.
Weight: 5 oz/ 141g
Please remember that all of Fiorella Soapery products are lovingly handcrafted in small batches so there may be slight variations from the item in the photo. 
Fiorella Soapery proud to say our bar soap has:
No parabens
No Sulfates
No Phthalates
Is Cruelty Free
Vegan
Gluten Free
Nut Oil Free
Ingredients: Coconut Oil, Olive Oil, Palm Oil, Rice Bran Oil, Water, Sodium Hydroxide, Sodium Lactate, Fragrance, Titanium Dioxide, Mica. .  
---
We Also Recommend
---